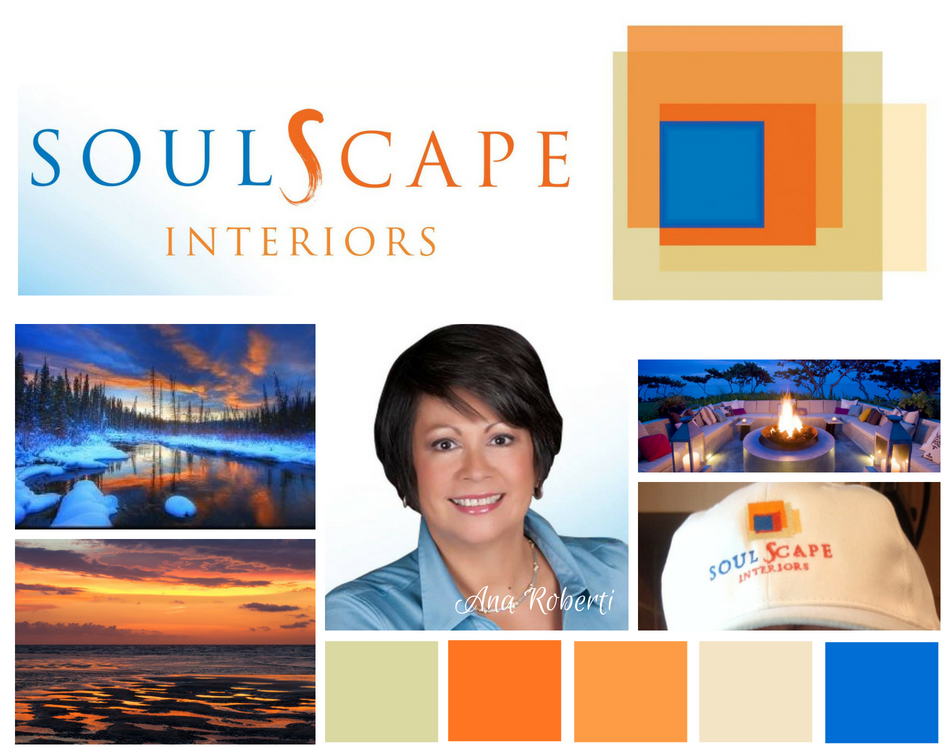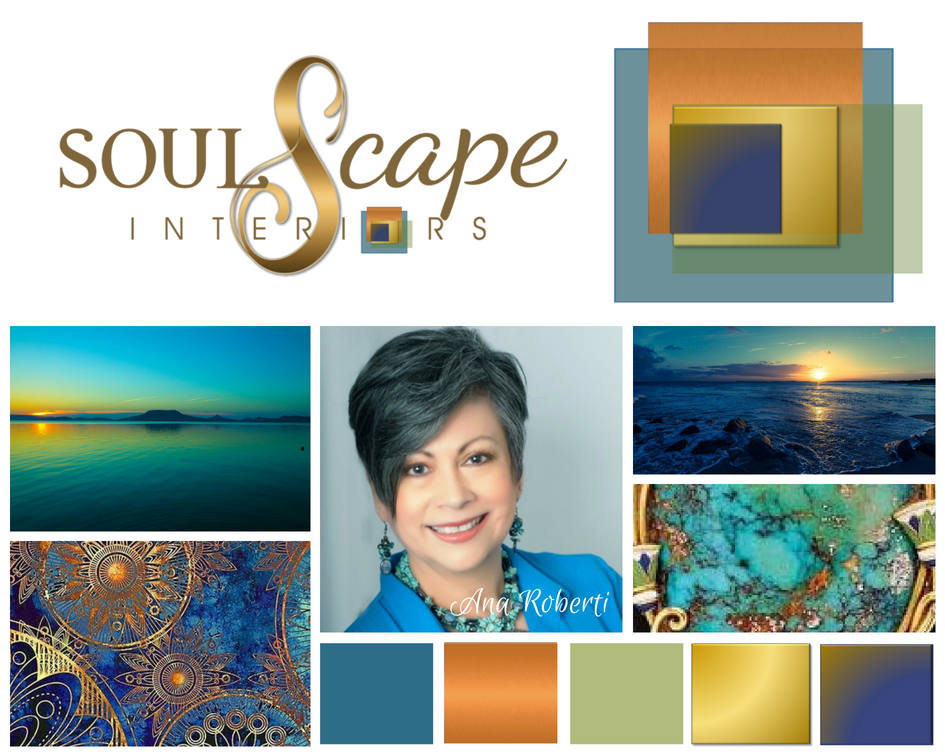 SoulScape Interiors ~ The Re-Brand Story
Both Brand Identities and Images convey subliminal messages. But only ONE speaks the true essence of SoulScape Interiors.
Before their last re-brand, SoulScape Interiors was known as Interior Image. Ana Roberti- founder and senior designer and her husband Joe- manager of operations, have been in business for 30 year. As the business evolved over the years, they noticed that their clients were wanting and needing more supportive and nurturing interior environments. The name SoulScape Interiors came to Ana in a "brand inspiration". She knew that the name SoulScape Interiors really speaks more of what their brand stands for. So, when they renamed the business, they also had a new brand identity created to go with it.
But not too long after, Ana realized that although SoulScape Interiors had a lovely and complete brand identity, it didn't quite represent the business in all it's depth and sophistication. And it didn't really represent her or Joe either. She had recently reworked her personal brand style (wardrobe colors and styles) with our Enchant Your Style™ program, and thus began attracting higher end clients and projects. She instinctively knew that she needed to upscale the brand identity to match her personal brand and level of expertise and talent she and her husband Joe bring to the table. Now the brand more accurately reflects "who" their brand is, what it stands for, and the level of quality and creativity they provide to their clients.
Click the Gallery Images to View More
"But was there anything really "wrong" with the former brand identity?"
The answer is No. …and Yes. What was right about it is that it reflected what Ana had submitted as inspirations for her color palette to her previous brand designer (not Enchant), and the brand was also represented with excellent consistency throughout all their touchpoints and marketing. What was wrong about the branding is that it didn't really represent who Ana and Joe are or "who" their brand is. Ana is DAZZLING and WARM. She is deep and soulful. She knows how to connect to her clients and "dig in" to help them reflect their style and personalities in their own spaces. Joe is also deep and thoughtful. He brings his own gift for detail and connection. The former brand lacked the depth, the warmth, the authenticity of their true brand, even down to Ana's choices of wardrobe in her headshots and makeup colors in the photos. Ana's not "peaches and cream". She's more "Dynamic and Spicy". She brings that energy to the table and it should be reflected in every brand expression so her ideal prospects can see it and feel it. That way the ones who she is meant for "know it" when they meet her or see her branding in action.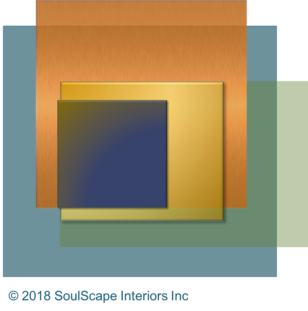 People have asked "what do those boxes in the logo mean?"
As an interior designer, Ana created the boxes motif as an outline drawing years ago to represent the spaces within a project, and how the layers draw you in deeper. As you can see with the new color palette, the dimension speaks to the elements of earth and soul. The two metallics (copper and gold) representing the element of metal of course, the green- earth/life/renewal, the teal for water/soothing/sanctuary, and the indigo for Air/cosmos/depth/soul. And the very special "S" hints at the symbol for infinity which speaks to the soul's expression of living.
The logo and color palette aren't the only things that look different.
We've sprinkled Faerie Dust on pretty much everything. A brand new website (soulscapeinteriorsinc.com) with fresh images of recent projects, all the print and digital collateral will reflect the new branding, and SoulScape's TV show, SoulScape Living will also have a new look with it's own version of the new branding.
The new branding represents the creativity, quality, and attention to detail that SoulScape Interiors is committed to offering their clients. With a fresh brand, comes a fresh energy and spirit. Visual expression is essential for fast and effective communication. Ana and Joe of SoulScape Interiors really get it…
and now…